Girls Night Out
August 20 , 2019
Time: 6:15 pm
Ladies, it's time for another Girls' Night Out, a time of refreshing, fellowship and great West African food! We are gathering at ASANKA KITCHEN, 10203 Two Notch Road, 29229 at 6:15 pm. Sign up today through August 19th at noon so we can reserve a space at the table for you! Invite your friends to join us!
Click Here for to Signup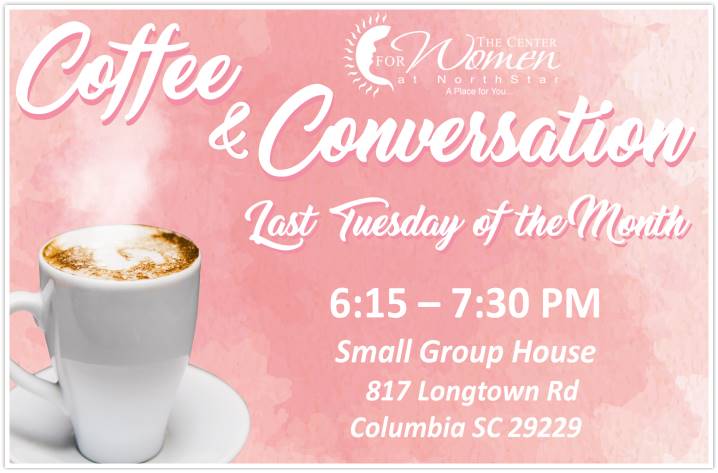 Coffee & Conversation
2019 Dates: March 26th, April 30th, May 28th, June 25th, August 27th, September 24th and October 29th
Looking for an intimate setting where amazing women share stories of encouragement and strength that they have found in their relationships with God? Come gather with us on the last Tuesday evening of the month from 6:15-7:30 PM. Check out our FB page for monthly information.
Propel Women
NorthStar Christian Center has become a church chapter of Christine Caine's ministry, Propel Women, their vision being: Propel exists to see every woman activated in order to fulfill her God-given destiny. Its mission: Propel provides resources and opportunities for growth to ignite every woman's passion, cultivate her purpose, and unleash her potential. There are many resources at www.propelwomen.org to help you grow deeper in your walk with the Lord.


Propel Passion Series
2019 Saturday mornings: March 9th, April 13th, May 11th, June 8th, August 10th and September 14th. Tuesday evenings: March 12th, April 16th, May 14th, June 11th, August 13th and September 17th.
We will start our Propel Passion Series, offered at two different times, on Second Saturday mornings from 9-11 AM at the NorthStar Small Group House at 817 Longtown Road, Columbia SC 29229, and on the Tuesday evening following the Second Saturday at the home of Susan Thomas from 6:15 to 8 PM. The dates are listed for each.
Propel Book Club
There are book clubs you can participate in online and join the conversations at www.propelwomen.org on your own, or invite a friend to join in with you.